| | |
| --- | --- |
| Posted on February 28, 2012 at 2:15 PM | |
I want you to eat it. Yes, that's right, eat it.
Your placenta is an amazing thing!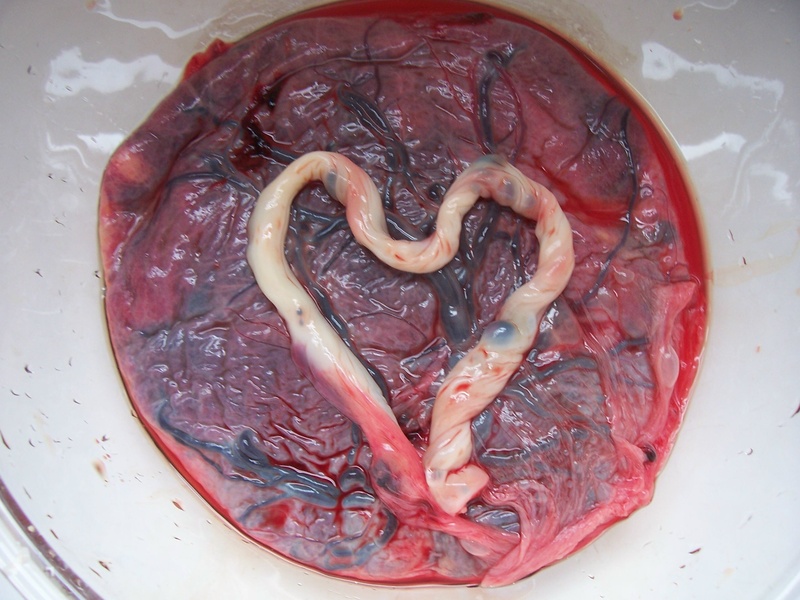 It is the only organ that the body discards. And your next baby, it makes a new one. How cool is that!
It is an organ that you and your baby share! It is made up of 50% of your (the mom) cells and 50% of your babies! (I will be honest, if you have more than one baby in there, I don't know how that math works out) If you think about that, and you know about antibodies and organ donation, how amazing is it that our bodies do not reject something that isn't ours.
The placenta not only nourishes your baby, but it tries to protect it from stuff like alcohol, tobacco and other stuff that we might be avoiding in pregnancy. If you examine the placenta of a smoking woman, you will see calcifications. If you examine these, they contain high concentrations of nicotine. This is not to say that the placenta stops and filters everything out, but just that it is trying to protect your baby.
Most other mammals do eat their placentas. The hormones contained within help "eject the milk and help clean and return the uterus to its pre-pregnancy size". How often have you heard a woman state that she didn't make enough milk nor has problems with breastfeeding? Modern science says that although the placenta does contain a high amount of protein, hormones and other nutrients, there is no reason for a healthy, well-fed woman to consume her placenta. We are well-fed, but highly undernourished as a society (another rant), but are we missing out on a key step to optimal maternal nutrition by not eating our placentas?
When is the last time you heard of an animal with postpartum depression? While it is true that some animals will eat their young, I doubt that this is a manifestation of PPD. If you look at the hormone fluctuation that a woman can go through during 'her time of the month', multiply that by 10 to get what her body does in the first week after baby. The very hormones that her body stops making (and has been used to for the past 9+ months) are the very ones that are rich in her placenta. Most methods of encapsulation do recommend a tapering off in the capsules, making a gentler transition out of your pregnancy hormone high. They also allow for more 'Happy Pills' when those bad days occur, kind of perk me ups. Placentophagy (that's the act of eating your placenta) has been shown in scientific double blind studies (basically as fool proof as it gets) to decrease the symptoms and occurrences of PPD. Makes me want a fourth kid just to see if it works!
The placenta contains high levels of various vitamins, such as B6, which can help curb postpartum depression. Eating the placenta enables the mother to "reclaim" these vitamins and put them to use in her own body. Placentophagia may also increase a mother's blood levels of a hormone known as CRH (corticotropin-releasing hormone), a known stress-reducer. This hormone is normally secreted by the hypothalamus. And we all know that a Happy Wife makes a Happy Life!
How about that 'helps the milk eject' situation? In 1954, a study was conducted in which 210 women, expected to have low milk supply, were administered dried placenta. 86% of the mothers noticed a significant increase in milk production (http://placentabenefits.info/medicinal.asp). I makes sense that placentophagia can be beneficial in stimulating breastmilk production, even for mothers who are not at risk for low supply. Eating my placenta is a better option, in my opinion, than the modified milk of another species (or plant).
It has been a long standing truth amongst homebirth midwives that if a woman is hemorrhaging, placing a slice of the maternal side of the placenta between her cheek and gums will help slow/stop the bleeding. Now this is a fresh slab of placenta. But if I had the choice between "here, eat this" or "we have to go to the hospital, you're bleeding out", I would be grabbing that hunk of love and mowing down.
Thankfully, we have the ability to capture most of that placenta goodness in a pill! (If only they could make me a size 4 via pill) There are 2 common methods for this, Traditional Chinese Medicine and Raw Foods (I will go into each one in subsequent posts). Each has its own benefits and unique properties that may appeal to each woman.
Bellies2Babies does offer both types of Placenta Encapsulation. If you would like more information on our services, please do not hesitate to contact us at info@bellies2babies.com.
Categories: Breastfeeding, Postpartum Adjustment Period, Placenta Encapsulation